From CCSA member Annie Alidina
1 Onion (or 2 small ones), diced
Thumb-sized piece of Fresh Ginger, grated
2-3 cloves of Garlic, chopped
1 cup raw Almonds or Cashews, chopped
2 bunches of Greens: Kale, Chard, Collards, Spinach or some combination
2 T Soy Sauce or Tamari
2 T Rice Vinegar
2 T Olive or Canola Oil
1-2 tsp Toasted Sesame Oil
In a heated skillet over medium heat add chopped almonds and sauté until toasted, then remove and set aside. Add oil, onion, garlic, and ginger, and sauté for 2-3 minutes then add greens –- stems and all (you can add the stems a minute or two before the greens if you want) and cook for 5-10 minutes, shorter for chard and more for collards & kale, until coated with the oil and brilliant green.
Add soy sauce/tamari, vinegar, and the toasted nuts and cook for another minute 'til it's all combined and the greens are tender but not brown. Serve as a side dish or over rice for a simple vegetarian meal.
​
Back to Recipes
Powered by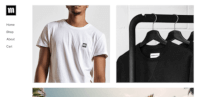 Create your own unique website with customizable templates.